Medical Assistant Programs & Certification in Utah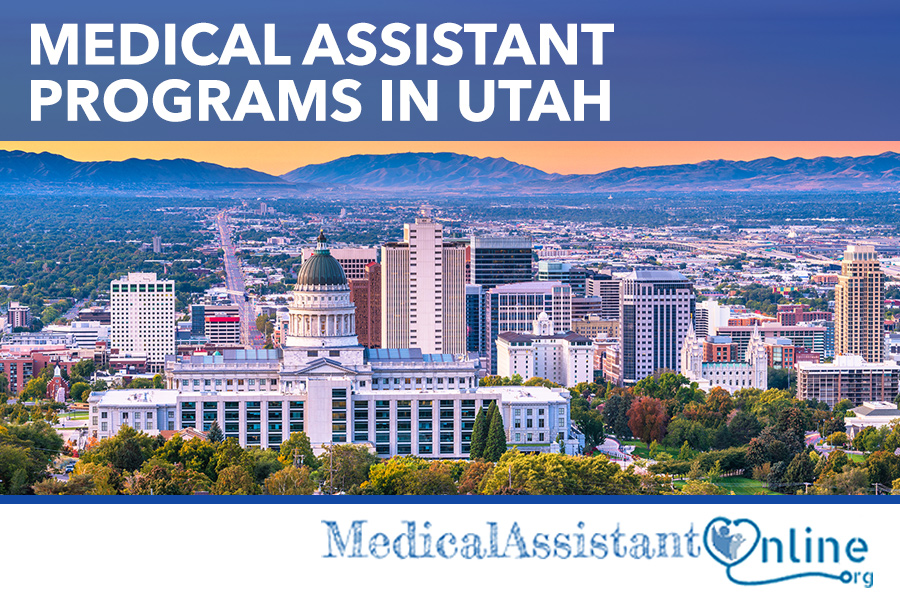 Medical assistants are an essential part of the medical process. They help doctors and patients by assisting with administrative duties, as well as lab and patient care. According to the Bureau of Labor Statistics (BLS), the employment of medical assistants is projected to grow 19% from 2019 to 2029 due to the need for medical assistants across the US–not just in Utah. You can obtain a medical assisting education in the form of an online program in Utah. To find out more, continue reading below.
Finding an Online Medical Assistant Program in Utah
Online learning is becoming more and more common, especially since the pandemic. It is as simple as doing a little research to find the right program for you, but if you happen to know someone who already works in the medical field, they may also be able to point you in the right direction. One of the more well-known online medical assisting programs in Utah is the one offered by Eagle Gate College, but if that one doesn't suit your needs, there are plenty of others to choose from. Always ensure that your program of choice is properly accredited and offers the desired program type (certificate/diploma or associate's degree).
Sponsored Listings
Getting a Medical Assistant Certification in Utah
In Utah, medical assistants are not required to obtain licensure or certification from state organizations in order to work in the medical field. However, earning certification through a recognized organization can help you stand out when it comes to the application process and enhance your professional qualifications.
To become a certified medical assistant in Utah, you can follow these general steps:
Education and Training: Complete an accredited medical assistant program that meets the criteria set by organizations such as the American Association of Medical Assistants (AAMA) or the National Healthcareer Association (NHA). These programs typically include both classroom instruction and hands-on clinical training to equip you with the necessary knowledge and skills.
Certification Exam: After completing your education, you may choose to take a certification exam offered by organizations such as the AAMA or the NHA. These exams assess your understanding of various medical assistant competencies, including clinical and administrative tasks.
Application Submission: Once you pass the certification exam, you can submit your application for certification to the respective organization. Follow their specific guidelines and provide any required documentation, including proof of education, training, and exam results. Pay the necessary fees as specified by the organization.
Certification Issuance: Upon successful completion of the application process and meeting the certification requirements, the organization will issue your medical assistant certification. This certification demonstrates your competency and validates your qualifications as a medical assistant.
While there are no specific state organizations for medical assistant certification in Utah, obtaining certification from nationally recognized organizations such as the AAMA or the NHA can greatly enhance your professional qualifications and increase your job prospects. These certifications are widely recognized and respected in the healthcare industry, including in Utah.
To stay updated with any changes or requirements specific to Utah, you can visit the Utah Division of Occupational and Professional Licensing website or contact the Utah Medical Association. These state organizations can provide information and resources related to the practice of medical assistants in Utah and any regulatory updates that may affect your career.
Where Can I Find a Job as a Medical Assistant in Utah?
With the recent medical professional shortage, it's fairly easy to find medical assistant positions everywhere you look. Finding one that works for you can be as simple as looking on job boards or contacting your local medical centers, hospitals, and nursing homes directly to see if they have any positions available. In Utah, for example, try contacting the University of Utah Hospital, Intermountain Medical Centre, and Utah Valley Hospital.
What Is the Salary for a Medical Assistant in Utah?
According to Salary.com, the annual salary range for medical assistants in Utah is between $31,000 and $42,000. Your actual salary will vary depending on if you become certified, have any prior experience, or if you're working in an area that has a higher need for medical assistants.
Get More information on medical assistant salaries in Utah.
The following cities in Utah offer medical assistant schools and courses.