Medical Assistant Jobs Guide
Medical assistants are vital members of the healthcare industry who provide administrative and clinical support to physicians, nurses, and other healthcare professionals. They perform a wide range of tasks, from managing patient records to assisting with medical procedures. In this guide, we will explore the job outlook for medical assistants, their common job duties and tasks, what type of employers hire medical assistants, and provide tips and tricks for medical assistant job interviews.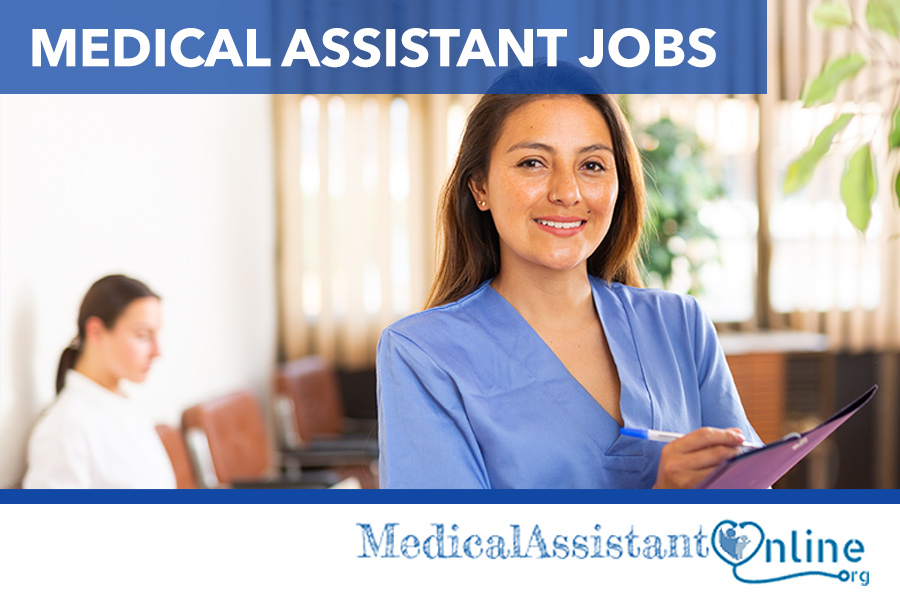 Medical Assistant Job Outlook
According to the Bureau of Labor Statistics (BLS), the employment of medical assistants is projected to grow 16 percent from 2021 to 2031, much faster than the average for all occupations. In the coming decade, roughly 123,000 job openings are estimated for medical assistants each year. As the healthcare industry continues to expand, the demand for medical assistants will continue to rise. As of May 2022, the following states had the highest employment levels for medical assistants:
California
Texas
Florida
New York
Georgia
Medical Assistant Job Duties
Medical assistants perform a variety of clinical and administrative tasks, depending on the healthcare setting they work in. Here are some common job duties and tasks that medical assistants perform:
Taking patient medical histories and recording vital signs
Assisting with medical procedures, such as injections and electrocardiograms (EKGs)
Collecting and preparing laboratory specimens
Administering medications under the direction of a physician
Managing patient records and scheduling appointments
Billing and coding for insurance purposes
Communicating with patients and their families
Certain "soft skills" are also advantageous for medical assistants. These include:
Communication skills: Medical assistants need to communicate effectively with patients, doctors, and other healthcare professionals. Good communication skills include active listening, empathy, and clarity in explaining medical information to patients.
Interpersonal skills: Medical assistants work closely with patients and their families, so it's important to have strong interpersonal skills. This includes being friendly, approachable, and able to establish rapport with patients and coworkers.
Attention to detail: Medical assistants need to pay close attention to details when taking patient histories, administering medications, and recording vital signs. Being detail-oriented helps to ensure that medical records are accurate and that patients receive the correct treatment.
Organization skills: Medical assistants need to manage multiple tasks and patients at once, so strong organization skills are crucial. This includes managing patient records, scheduling appointments, and keeping medical supplies stocked.
Time management skills: Medical assistants need to be able to prioritize tasks and manage their time effectively. This helps to ensure that patients are seen on time and that all tasks are completed in a timely manner.
Problem-solving skills: Medical assistants may encounter unexpected situations or medical issues, so it's important to be able to think on their feet and solve problems quickly and effectively.
Empathy: Medical assistants need to be empathetic and caring towards patients who may be experiencing physical or emotional pain. This includes being able to provide emotional support and comfort to patients when needed.
Flexibility: Medical assistants may need to adapt to changes in their work environment or patient care, so being flexible and adaptable is important.
Teamwork: Medical assistants work closely with other healthcare professionals, so being able to collaborate and work well in a team is crucial.
Overall, having a combination of these hard and soft skills can help a medical assistant to excel in their role and provide excellent care to patients.
Who Hires Medical Assistants?
Medical assistants are hired by a variety of healthcare employers, including:
Hospitals
Clinics
Private practices
Outpatient centers
They work in a range of settings, from primary care to specialty fields such as dermatology and cardiology. Some medical assistants also work in nursing homes or home healthcare settings.
Tips and Tricks for Medical Assistant Job Interviews
If you're preparing for a medical assistant job interview, here are some best practices to keep in mind:
Prepare a solid resume and have copies on hand
Research the employer and familiarize yourself with their mission and values
Practice answering common interview questions, such as "What are your strengths and weaknesses?" and "Why do you want to work in healthcare?"
Dress professionally and arrive on time for your interview
Be prepared to discuss your experience and skills, as well as your passion for healthcare
Ask thoughtful questions about the job and employer to demonstrate your interest and engagement
Medical assistants play an essential role in the healthcare industry and have a promising job outlook. With a wide range of employers and work environments, medical assistants have the opportunity to explore different areas of healthcare and make a meaningful impact on patients' lives. By following these tips and best practices, you can prepare for a successful medical assistant job interview and start your career in this rewarding field.