Ophthalmic Medical Assistant Careers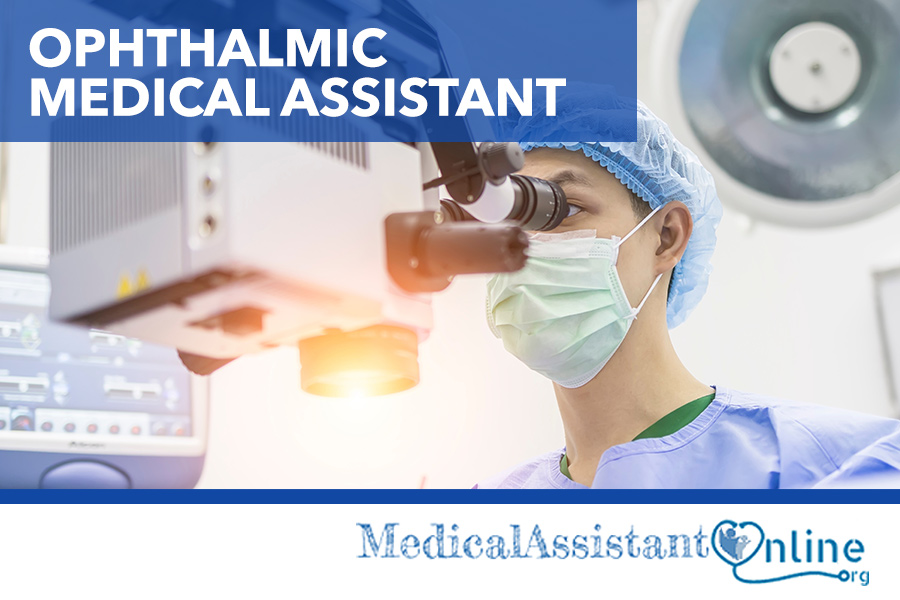 Medical assistants are often the backbone of a medical practice. They may help on both an administrative and clinical level. Although some medical assistants work for general practitioners, others specialize. If you are interested in specializing, you may want to consider working as an ophthalmic medical assistant.
What Does an Ophthalmic Medical Assistant Do?
An ophthalmic medical assistant works with ophthalmologists and optometrists. Ophthalmologists are medical doctors who specialize in treating conditions related to the eyes. Optometrists are not medical doctors, although they also must complete a four-year postgraduate program in which they earn a doctorate in optometry. Responsibilities are similar for both ophthalmologists and optometrists.
Ophthalmic medical assistants may perform similar duties whether they are working for either type of practitioner. Some typical responsibilities may include:
Complete preliminary eye tests: Ophthalmic medical assistants may perform basic eye exams, including testing for farsightedness and nearsightedness.
Teach eyeglasses and contact lens care: It is often the job of the medical assistant to teach patients how to clean and care for their contact lenses and glasses.
Administer eye medication: Although it may vary, some ophthalmic medical assistants may administer medications, such as numbing eye drops or antibiotic eye ointment.
Provide chairside assistance to ophthalmologists or optometrists: During exams, minor surgical procedures, and other types of treatment, ophthalmic medical assistants may provide assistance as needed.
Apply eye dressing: Some assistants may also apply bandages and other types of eye dressings.
What Education Do I Need to Become an Ophthalmic Medical Assistant?
There are a few different career paths to becoming an ophthalmic medical assistant. Attending a medical assistant training program is the most common road to a career. Certificate programs take about a year and are a good option for students who want to complete school quickly and start their careers. Two-year associate degree programs are also an option; these programs go a little more in-depth than certificate/diploma programs.
In general, most medical assisting programs provide a broad education. Programs teach the skills medical assistants need regardless of the specialty they pursue. Most medical assisting programs do not include classes specifically related to ophthalmology. Instead, they provide a general foundation. Curricula may vary, but often include classes on medical terminology, disease of the human body, and medical assisting procedures.
Once students graduate from an MA program, they can pursue a job with an ophthalmologist medical practice. Once hired, a medical assistant would be trained on the job to learn the additional skills needed.
A second option is to further your education after attending an MA program. Ophthalmic assisting programs are offered at community colleges and technical schools. Programs vary in length, but many can be completed in one year. Classes will focus on ocular pathology and anatomy and skills directly needed to work as an ophthalmic medical assistant. Assistants learn how to perform basic eye exams, such as colorblindness tests, maintain ophthalmic equipment, and assist during minor surgical procedures.
The Joint Commission on Allied Health Personnel in Ophthalmology offers certifications including the certified ophthalmic assistant credential. It is an entry-level certification, which medical assistants may be eligible for after passing an exam.
Where Does an Ophthalmic Medical Assistant Work?
In most cases, ophthalmic medical assistants work in an ophthalmologist's or optometrist's medical practice. Some assistants work in large medical practices while others work for an ophthalmologist in a small private practice. Although there may not be as many jobs, eye clinics may also employ ophthalmic medical assistants.
Ophthalmic medical assistants may work with patients with all types of eye problems including common conditions, such as cataracts, astigmatism and glaucoma. They may also care for patients with acute problems including eye injuries and conjunctivitis. Some patients may also be farsighted or nearsighted. There are many instances where patients need a routine eye exam or prescription glasses.
What Is the Average Salary for Ophthalmic Medical Assistants?
Medical assistants who work in the field of ophthalmology can expect to earn salaries similar to medical assistants in other types of medical practices. But medical assistants who pursue additional training and become certified as an ophthalmic assistants may have higher earnings. According to The Joint Commission on Allied Health Personnel, the average salary for certified ophthalmic medical assistants is about $42,000 a year. It is important to remember statistics on salaries are a general guide. Experience, education level and areas of the country you live all also factor into earnings.
What Is the Job Demand for Ophthalmic Medical Assistants?
There is currently a demand for qualified ophthalmic medical assistants. Many medical assistants do not go into a specialty and instead work in a general practitioner's office or an urgent care clinic. Medical assistants who receive additional training related to ophthalmic medical assisting are needed throughout the country.