Podiatric Medical Assistant Careers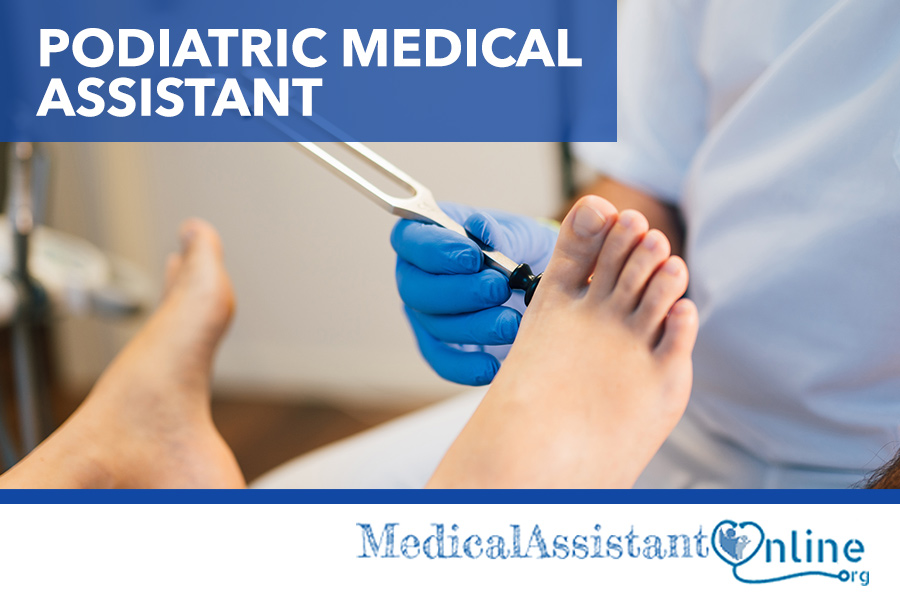 Many medical assistants work in clinics and doctor's offices. But some medical assistants choose to narrow their focus and specialize in a particular area of medicine. One option for those who want to become an expert in a specialty is working as a podiatry medical assistant.
Sponsored Listings
What Does a Podiatry Medical Assistant Do?
Podiatry medical assistants have the skills and knowledge needed to work with a podiatrist in his or her practice. Podiatrists are doctors of podiatric medicine who specialize in treating conditions that affect the feet and ankles.
Although some podiatrists work for a medical center, many are in private or group practice. As with other types of medicine, podiatry medical assistants are needed to help a podiatry practice run efficiently.
Although the day-to-day responsibilities may vary, some typical tasks of a podiatry MA include the following:
Performing pretreatment foot exams
Applying casts and bandages
Assisting with minor surgical procedures
Performing fungal nail care
Collecting patient health information
There are several skills needed to work as a podiatry medical assistant, such as those listed below.
Manual Dexterity: Although responsibilities can vary, many podiatry assistants perform or assist with procedures. For example, applying casts, bandages and clipping toenails are all procedures that may be bettered performed if you have good manual dexterity.
Good at Following Directions: Being able to follow direction well is an important trait for a medical assistant in podiatry. For example, assistants need to follow sterile technique when doing procedures. Small deviations from directions could lead to an increased risk of infection.
Detail Orientated: Podiatry medical assistants often help the doctor perform procedures that require attention to detail, such as providing toenail care to diabetics or applying casts.
Organizational Skills: As with all types of medical assisting, being well organized is needed if you are going to work in the field of podiatry. Whether you work in a large podiatry clinic or a small practice, there are multiple things that must be juggled to help the practice run well.
What Education Do I Need to Become a Podiatry Medical Assistant?
Most medical assistants in podiatry have completed formal education in a medical assisting program. One-year certificate/diploma programs and two-year associate degree programs are available in medical assisting. Typical classes may include exam techniques, laboratory procedures, and medical ethics. While these programs are typically broad, many podiatry medical assistants learn specific skills needed to work in podiatry on-the-job.
The American Society of Podiatric Medical Assistants offers podiatry medical assisting certification. Applicants must have some experience working in a podiatry office.
The American College of Foot and Ankle Orthopedics and Medicine also offers an online certified clinical podiatric medical assisting course. Students learn about conditions that affect the feet, treatments, and the role of a podiatry assistant. An internship in a podiatry office is required to complete the certification program.
Where Does a Podiatry Medical Assistant Work?
Podiatry medical assistants usually find jobs in a podiatry practice or podiatry clinic. Most podiatry practices operate during the day. Medical assistants in podiatry can expect to work daytime hours with possible weekend or evening hours based on individual practice.
Medical assistants in podiatry may work in a general or specialty practice, such as podiatry sports medicine, pediatric podiatry, or diabetes complications. Working in a specific podiatry specialty allows a medical assistant an even greater opportunity to become an expert in their niche.
Since conditions involving the feet can affect people of any age, podiatrists may work with children and adults. As a podiatry assistant, you may treat patients with a wide range of problems, including heel pain, bunions, warts, hammertoes, and toenail fungus. A medical assistant in podiatry may also treat patients with more serious problems of the feet, such as peripheral neuropathy, diabetic wounds, and vascular issues.
What Is the Average Salary for Podiatry Medical Assistants?
The salary for a podiatry medical assistant varies based on how much experience they have, whether they hold a nationally recognized certification, and their location. According to Salary.com, podiatry medical assistants earn between $34,061 and $44,468 annually on average.
The U.S. Bureau of Labor Statistics reports the median salary for all medical assistants in 2021 was just over $37,000. It appears working in a specialized area of medical assisting results in higher salaries, which makes sense since additional knowledge and skills are needed.
What Is the Job Demand for Podiatry Medical Assistants?
It is difficult to state the demand specifically for podiatry medical assistants. But to get an idea, the demand for medical assistants in general is expected to grow by about 16 percent in the next ten years, according to the Bureau of Labor Statistics. The increased incidences of obesity and diabetes along with an aging population is partly responsible for the need for podiatric care.