Pediatric Medical Assistant Careers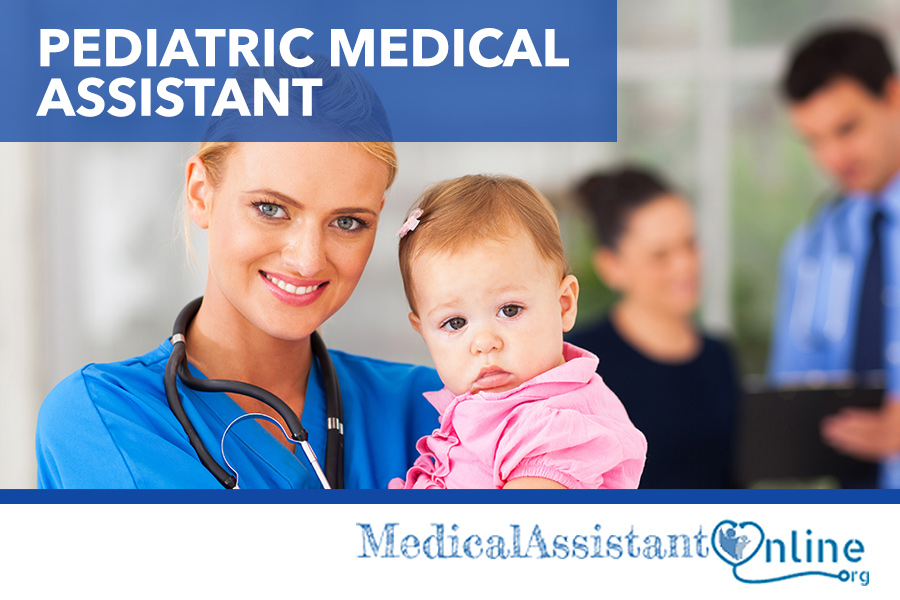 If you are looking for an entry-level medical career where you have the opportunity to work with children, a career in pediatric medical assisting may be an option to consider. Pediatric medical assisting is also a great gateway career if you eventually want to work in pediatric nursing or other healthcare roles.
What Does a Pediatric Medical Assistant Do?
Pediatric medical assistants work in various healthcare settings caring for children of all ages. Many medical assistants work in pediatric medical practices where the size of the practice may play a part in specific responsibilities. For example, in a small pediatric practice, medical assistants may take on both clinical and administrative medical assisting duties. The state in which a pediatric medical assistant works may also dictate their scope of practice. In general, pediatric medical assistants can expect to do some of the following tasks:
Weigh and Measure Children: All children have their weight and height measured at every appointment to ensure they are developmentally on track.
Record Vital Signs: A common MA responsibility is measuring a child's temp, blood pressure, heart rate and oxygen level.
Remove Sutures: There may be instances where a pediatric medical assistant removes stitches from a patient.
Administer Vaccinations: Children often get immunizations at their checkup, especially throughout their first year. Medical assistants usually administer the vaccines.
Provide Parent Education: Pediatric medical assistants often provide parents with information on proper nutrition, developmental milestones and potty-training.
Assist the Pediatrician: Pediatric medical assistants may routinely need to assist with exams or treatments.
What Education Do I Need to Become a Pediatric Medical Assistant?
There are no specific medical assisting courses for students who want to specialize in pediatric medical assisting. If you're interested in working in this specialty, your best bet is to complete a general medical assisting program and learn the basics of the profession before specializing.
Medical assisting programs often combine both administrative and clinical tasks. There are also MA programs that focus solely on clinical medical assisting. A clinical medical assisting program may be a better option if you plan to become a pediatric medical assistant.
Two-year associate degree programs and one-year certificate and diploma programs are offered at technical schools, adult education centers, and community colleges. Classes may include clinical procedures, anatomy and physiology, communications, and basic pharmacology.
Most clinical medical assisting programs also require an externship. An externship involves working in a clinic or medical practice under the direction of an experienced medical assistant. If you are planning to become a pediatric medical assistant, an externship at a pediatric practice would be a great way to gain experience in the field.
If you're considering a career as a pediatric medical assistant, taking additional classes and training is helpful. For example, classes in child development and infant CPR are useful. Organizations including the National Center for Competency Testing offer specialty classes for medical assistants, including pediatric medical assisting. Continuing education classes for medical assistants, which focus on working with pediatric patients, are also an option to gain additional training.
Although it is not mandatory for employment as a pediatric medical assistant, obtaining certification will likely increase job offers. Some pediatric practices may prefer to hire certified medical assistants. A specific certification in pediatric medical assisting is not currently offered, but certification in clinical medical assisting is offered through the National Healthcareer Association. A broader certification covering both clinical and administrative certification is also available through the American Association of Medical Assistants.
Where Does a Pediatric Medical Assistant Work?
A large majority of pediatric medical assistants find jobs in pediatric medical practices of various sizes. Some may work for pediatricians who specialize in areas such as pediatric cardiology or oncology. Pediatric medical assistants may also work for pediatric clinics or home health agencies.
As a pediatric medical assistant, you may work with children of all ages, from infants to teens. If you work in a general pediatrician's practice, you will likely encounter children with common childhood illnesses including intestinal viruses, strep throat, and the flu. You may also treat children with chronic conditions including asthma, diabetes, and allergies. Some children you care for may be visiting the doctor for a wellness checkup or routine physical.
What Is the Average Salary for a Pediatric Medical Assistant?
According to the United States Bureau of Labor Statistics, the average salary for all types of medical assistants in 2021 was about $37,190 per year. According to ZipRecruiter, pediatric medical assistants can earn an annual salary of $25,500 on the low end to upwards of $47,500 on the high end. Exact salary will be determined by location, type of employer, experience level, credentials/certifications held, and many other factors.
What Is the Job Demand for Pediatric Medical Assistants?
All types of medical assistants are currently in demand, including pediatric medical assistants. The profession is expected to grow by about 16 percent over the next ten years – much faster than the average for all occupations.