Medical Assistant Certification: Online & Campus
The medical field is a wide and sprawling workforce with various roles requiring different levels of education and certification, depending on the job title. If you're new to the world of medical assisting, you may find yourself wondering, "what types of certification will I need to work as a medical assistant?" You can find the answer to this question and more by reading the information below.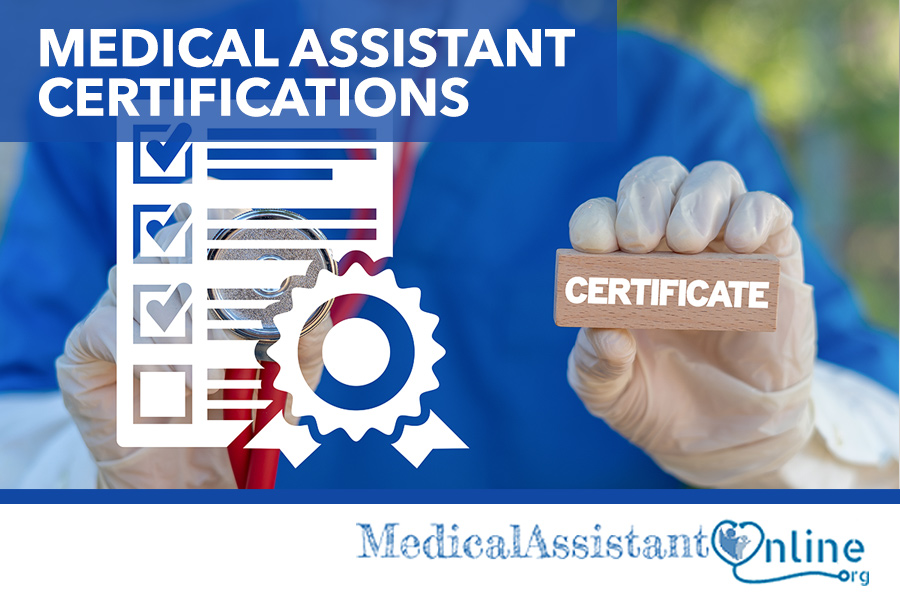 Does My State Require Medical Assistant Certification?
Simply put, medical assistants are not required to be certified in any state, and there are no federal regulations that mandate certification. However, there are many reasons why you may want to consider certification anyway.
For one, the hiring process in your state might be competitive. If the position available is being vied for by you and several other applicants, having certification will give you the extra edge needed to stand out from the others.
Secondly, medical assistants who are certified typically hold a diploma or associate's degree in medical assisting, and have undergone some level of training. This will provide you with background knowledge and allow you to be able to learn at a quicker pace once you are hired for the position.
What Are My Options for Medical Assistant Certification?
There are several programs and degree pathways available for certification as a medical assistant. Your selection of a particular program or certification type will likely depend on which type of medical assistant you would like to become.
Administrative Medical Assistant
The certification most associated with administrative medical assistants is the certified medical administrative assistant (CMAA) certification. For this particular certification, you will be required to hold at least a high school diploma, completed a medical assistant program that included administrative training, and to take and pass the CMAA exam and pay the $117.00 exam fee.
Clinical Medical Assistant
If you are looking to become certified as a clinical medical assistant, you will want to look for certified clinical medical assistant (CCMA) programs or internships. If you complete your training or work as a medical assistant intern for one year, you will be eligible for taking the CCMA exam and becoming certified once you pass. The exam fee for the CCMA exam is $160.00.
Registered or Certified Medical Assistant
Registered medical assistants and certified medical assistants are essentially the same things, but certification comes from two separate, but equally respected organizations – American Medical Technologists and the American Association of Medical Assistants.
Both examinations will essentially test the same knowledge, but there are a few variations in the requirements asked of you before you take the exam.
In order to take the exam as an RMA, you will need to either graduate from an accredited medical assistant program or work for five years as a medical assistant and pay the $160.00 exam fee.
For CMAs, you'll need to graduate from a medical assistant program accredited specifically by Accrediting Bureau of Health Education Schools and pay the $125.00 exam fee.