Cardiology Medical Assistant Careers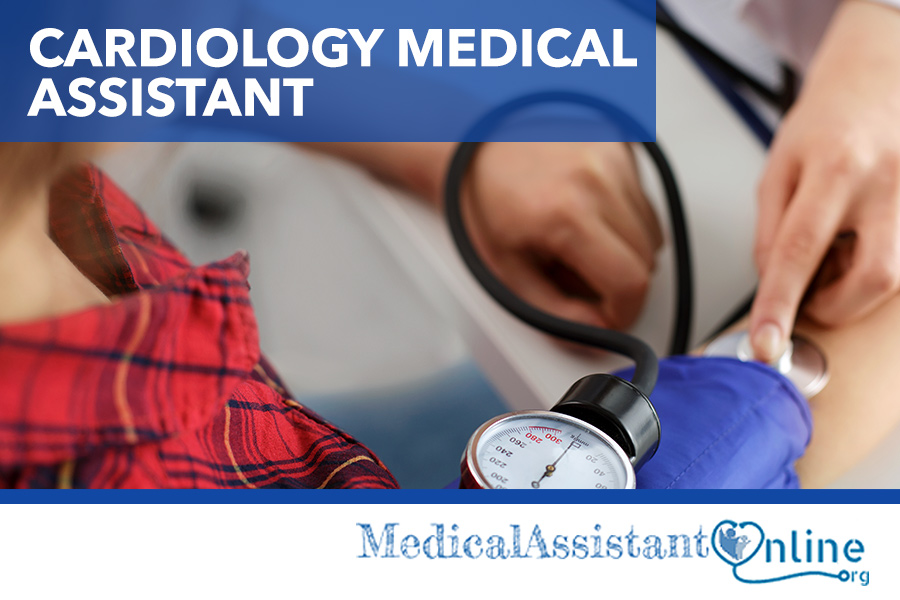 Medical assistants provide a very important role in the medical field by assisting both patients and doctors with various tasks such as organizing and filing paperwork, scheduling appointments, and preparing patients for medical procedures.
There are many different types of medical assistants who fill roles in various medical specialties. We've prepared this guide to help you decide if a career as a cardiology medical assistant is right for you.
What Does a Cardiology Medical Assistant Do?
Cardiology medical assistants primarily assist cardiologists and their patients with various tasks and help streamline the medical process for everyone.
As a cardiology medical assistant, you can expect to fill all of or some of the same tasks and responsibilities that non-specialized medical assistants fill in addition to other cardiology-specific tasks such as:
Preparing examination rooms and equipment
Taking the patient's vital signs
Performing electrocardiograms and recording results
Administering medication and vaccinations
Assisting with patient education and briefing a patient on treatments, medication, and maintaining heart health
Maintaining patient records, including scheduling and maintaining appointments
What Education Do I Need to Become a Cardiology Medical Assistant?
While there are no specific federal or state regulations on the amount of education a cardiology medical assistant receives, it certainly pays off to enroll in either a medical assistant certificate/diploma or associate's degree program.
One of the reasons, and possibly the most important reason you may want to consider enrolling in such a program, is so that you will find yourself prepared to handle the busy and sometimes overwhelming settings that cardiology medical assistants serve in. Undergoing a training program will give you plenty of first-hand experience so that you don't go into the medical field blindly.
Another reason for medical assistant education or training programs is that they will help you secure employment. Many of these programs have resources for medical assistants to immediately pick up work once their program is completed, and many of the programs are either moderated or sponsored by hospitals and other medical centers themselves. At the very least, you will be able to put any MA certification you gain from the program on your resume, setting you apart from the other applicants. Undergoing training may also make it easier for you to leverage pay.
Where Does a Cardiology Medical Assistant Work?
Simply put, a cardiology medical assistant will work in cardiology medical facilities where medical assistants are needed. Some of these may include:
Rehabilitation centers
Cardiovascular clinics
Private cardiology practices
Research facilities or academic institutions
Outpatient surgery centers
Hospital cardiology departments
What Is the Average Salary for Cardiology Medical Assistants?
According to Salary.com, the salary for a cardiology medical assistant typically ranges between $32,221 and $37,739 per year, with a median salary of $34,952, making it one of the more lucrative medical assistant specialties. However, how much you'll actually make as a cardiology medical assistant will have several factors; mainly, the demand for medical assistants in the area you'll be working, your experience, and as mentioned earlier in this guide, any certifications or training you may have.
What Is the Job Demand for Cardiology Medical Assistants?
According to the Bureau of Labor Statistics, there is particular demand for medical assistants of all specialties and will be for many years. This is largely due to population aging, increased access to medical care, and advancement in medical technology.