Medical Assistant Programs & Certification in North Carolina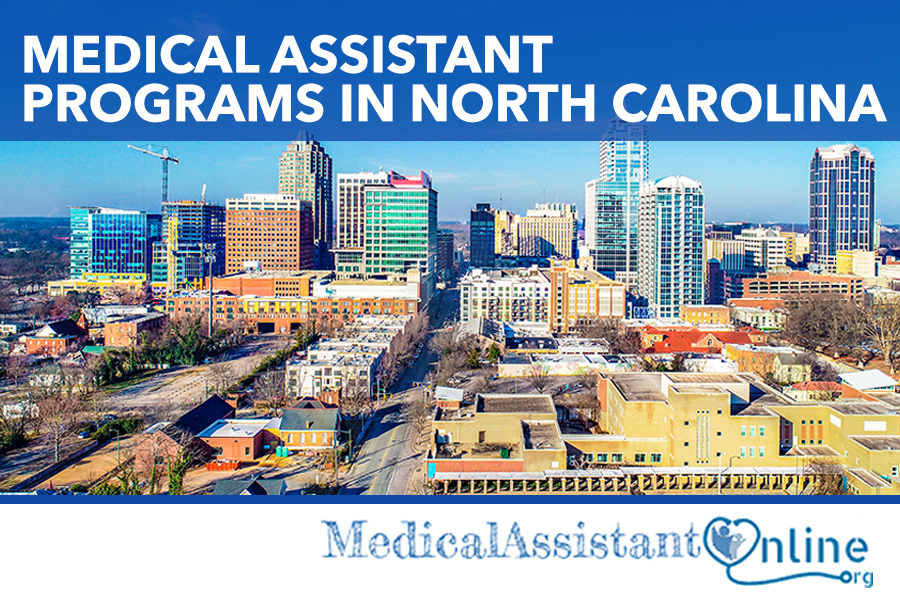 In doctor's offices, hospitals, and other medical centers, medical assistants help both patients and other healthcare providers streamline the medical process through tasks including scheduling appointments and prepping patients for medical procedures. This is a crucial position in the medical field, and there are increasingly fewer people to fill this role due to an aging population and advancements in medical technology. The Bureau of Labor Statistics estimates that there will be a 19% increase in medical assisting positions in the next decade. For those who are looking to start a career as a medical assistant, there are programs available to ensure that you have the training you require to succeed, many of which are available partially or fully online.
Finding an Online Medical Assistant Program in North Carolina
Finding an online program in medical assisting that fits your needs is simple in North Carolina. A great resource is talking to professionals already working in the medical field who may be familiar with these programs already. Students can choose from two different medical assisting program types: the 1-year diploma/certificate program or the 2-year associate's degree program, both of which prepare students for medical assistant practice. In North Carolina, Wake College provides a medical assisting program that is available in in-person, online, and hybrid formats. Prospective students should ensure that any medical assisting program they enroll in is fully accredited, offers the education level they are looking for (associate's degree, diploma/certificate, etc.), employs qualified faculty, and has a high graduation rate.
Sponsored Listings
Getting a Medical Assistant Certification in North Carolina
In North Carolina, medical assistants are not required to obtain licensure or certification from state organizations in order to work in the medical field. However, earning certification through a recognized organization can help you stand out when it comes to the application process and enhance your professional qualifications.
To become a certified medical assistant in North Carolina, you can follow these general steps:
Education and Training: Complete an accredited medical assistant program that meets the criteria set by organizations such as the American Association of Medical Assistants (AAMA) or the National Healthcareer Association (NHA). These programs typically include both classroom instruction and hands-on clinical training to equip you with the necessary knowledge and skills.
Certification Exam: After completing your education, you may choose to take a certification exam offered by organizations such as the AAMA or the NHA. These exams assess your understanding of various medical assistant competencies, including clinical and administrative tasks.
Application Submission: Once you pass the certification exam, you can submit your application for certification to the respective organization. Follow their specific guidelines and provide any required documentation, including proof of education, training, and exam results. Pay the necessary fees as specified by the organization.
Certification Issuance: Upon successful completion of the application process and meeting the certification requirements, the organization will issue your medical assistant certification. This certification demonstrates your competency and validates your qualifications as a medical assistant.
While there are no specific state organizations for medical assistant certification in North Carolina, obtaining certification from nationally recognized organizations such as the AAMA or the NHA can greatly enhance your professional qualifications and increase your job prospects. These certifications are widely recognized and respected in the healthcare industry, including in North Carolina.
To stay updated with any changes or requirements specific to North Carolina, you can visit the North Carolina Medical Board website or contact the North Carolina Medical Society. These state organizations can provide information and resources related to the practice of medical assistants in North Carolina and any regulatory updates that may affect your career.
Where Can I Find a Job as a Medical Assistant in North Carolina?
There are many work environments to choose from as you consider where you will apply as a medical assistant living in North Carolina. Some of these include:
Hospitals
Nursing homes
Physcian's offices
Other medical facilities
A good place to look for medical assisting jobs is on the medical facility's website itself. In North Carolina, this includes Duke University Hospital, Carolinas Medical Center, and Atrium Health Medical Center websites.
What Is the Salary for a Medical Assistant in North Carolina?
According to Salary.com, the salary range for medical assistants in North Carolina is $32,000 to $43,000 per year. You could be making the low or high end of this range, but it will depend entirely on your education level and the need for medical assistants in your area.
Get More information on medical assistant salaries in North Carolina.
The following cities in North Carolina offer medical assistant schools and courses.