Medical Assistant Programs & Certification in New Jersey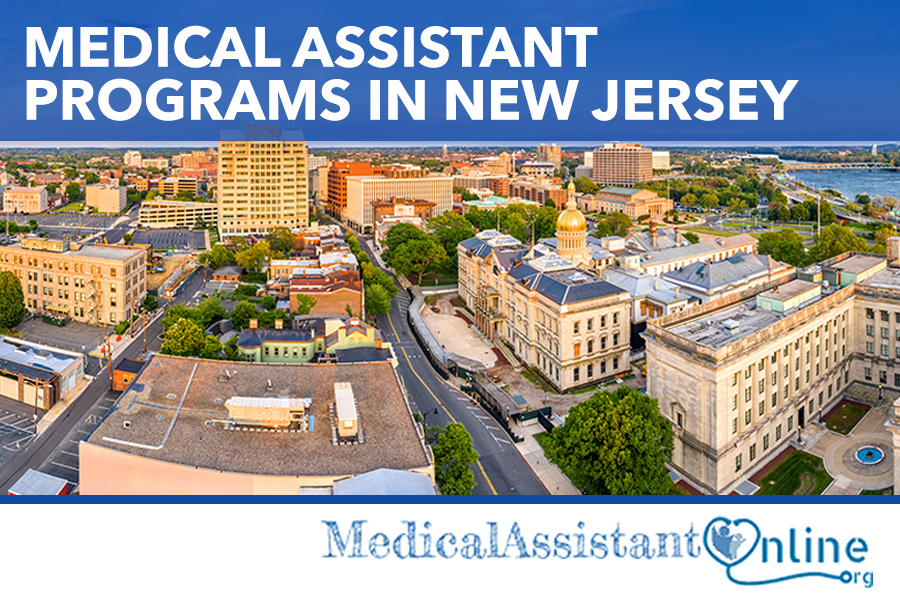 Medical assistants are responsible for aiding both doctors and patients during the medical process. They assist with tasks such as scheduling appointments, delivering lab materials, and prepping a patient for medical procedures. Following the pandemic, the U.S. saw a drastic decrease in medical assistants in the workforce, and today, according to the Bureau of Labor Statistics, many states, including New Jersey, are facing a drastic need for medical assistants. If you're looking to enter a new career, this is an incredibly lucrative and rewarding one to take on. With the new increase in medical assistant programs available online, it's never been a more convenient time to learn a new skill set.
Finding an Online Medical Assistant Program in New Jersey
Medical assistants can find online programs with various levels of degrees and certifications in New Jersey. One great example of a popular online medical assisting program based in New Jersey is the Certified Medical Assistant Program offered at New Jersey City University. Prospective medical assistants should know that programs come in two types: the 2-year associate's degree in medical assisting, and the 1-year certificate or diploma in medical assisting. Both of these will give you the foundation needed for a rewarding medical assistant career, but the associate's degree will go a bit more in-depth and set you up for future education (such as a bachelor's degree). Consider each program carefully, including the admissions requirements, the workload, and any scheduling conflicts that may arise to ensure the right fit for your unique needs.
Sponsored Listings
Getting a Medical Assistant Certification in New Jersey
In New Jersey, medical assistants are not required to obtain licensure or certification from state organizations in order to work in the medical field. However, earning certification through a recognized organization can help you stand out when it comes to the application process and enhance your professional qualifications.
To become a certified medical assistant in New Jersey, you can follow these general steps:
Education and Training: Complete an accredited medical assistant program that meets the criteria set by organizations such as the American Association of Medical Assistants (AAMA) or the National Healthcareer Association (NHA). These programs typically include both classroom instruction and hands-on clinical training to equip you with the necessary knowledge and skills.
Certification Exam: After completing your education, you may choose to take a certification exam offered by organizations such as the AAMA or the NHA. These exams assess your understanding of various medical assistant competencies, including clinical and administrative tasks.
Application Submission: Once you pass the certification exam, you can submit your application for certification to the respective organization. Follow their specific guidelines and provide any required documentation, including proof of education, training, and exam results. Pay the necessary fees as specified by the organization.
Certification Issuance: Upon successful completion of the application process and meeting the certification requirements, the organization will issue your medical assistant certification. This certification demonstrates your competency and validates your qualifications as a medical assistant.
While there are no specific state organizations for medical assistant certification in New Jersey, obtaining certification from nationally recognized organizations such as the AAMA or the NHA can greatly enhance your professional qualifications and increase your job prospects. These certifications are widely recognized and respected in the healthcare industry, including in New Jersey.
To stay updated with any changes or requirements specific to New Jersey, you can visit the New Jersey State Board of Medical Examiners website or contact the Medical Society of New Jersey. These state organizations can provide information and resources related to the practice of medical assistants in New Jersey and any regulatory updates that may affect your career.
Where Can I Find a Job as a Medical Assistant in New Jersey?
New Jersey has made many recent efforts to get its residents covered by health insurance. For this reason and many others, there has been an increased need for medical assistants in this great state. You can find many medical assistant positions readily available, especially to those medical assistants who have undergone extensive training and education. A great place to locate these positions is online through local listings. Sometimes, these listings can be found on the hiring facility's website itself, for example, the websites of New Jersey's largest medical establishments, Jersey Shore Medical Center, Morristown Medical Center, and Overlook Medical Center.
What Is the Salary for a Medical Assistant in New Jersey?
According to ZipRecruiter.com the salary range for medical assistants in New Jersey is $31,000 to $56,000 annually. This is a lot higher than many medical assistants are making in other states. However, how much you ultimately make will depend entirely on your education level and the demand for medical assistants in your area.
Get More information on medical assistant salaries in New Jersey.
The following cities in New Jersey offer medical assistant schools and courses.