Medical Assistant Programs & Certification in Nebraska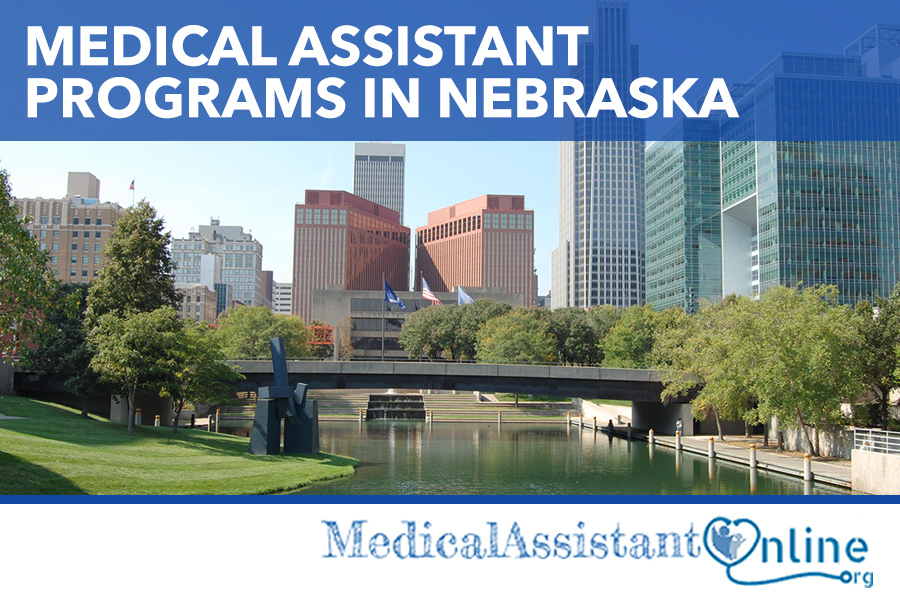 The Bureau of Labor Statistics estimates that there will be a 16% increase in medical assisting positions in the next decade. That means that this rewarding field has plenty of room for those looking to enter a new career. Medical assistants are responsible for assisting doctors with tasks such as appointment scheduling, communication with off-site medical labs, and preparing patients for medical procedures. If you're looking to enter such a career as a medical assistant in Nebraska, this guide will provide you will all of the information you need to know about enrolling in an online program for medical assisting.
Finding an Online Medical Assistant Program in Nebraska
There are many online programs available to those looking to become medical assistants; however, there are currently none that are based in Nebraska. This will likely change soon due to the increasing trend of more programs becoming accessible online. A good alternative to the online programs is an on-campus medical assisting program based in Nebraska, of which there are plenty. Some examples include Southeast Community College and Central Community College. Possibly the most appealing option is the University of Nebraska's program. Due to the increased need for medical assistants in Nebraska, the University of Nebraska will pay your tuition in order to incentivize medical assistants to move to their state. Keep in mind that medical assistant programs come in two formats: the 2-year associate's degree program, and the one-year diploma/certificate program. Ensure that you are choosing the program type that matches your goals and timeframe.
Sponsored Listings
Getting a Medical Assistant Certification in Nebraska
In Nebraska, medical assistants are not required to obtain licensure or certification from state organizations in order to work in the medical field. However, earning certification through a recognized organization can help you stand out when it comes to the application process and enhance your professional qualifications.
To become a certified medical assistant in Nebraska, you can follow these general steps:
Education and Training: Complete an accredited medical assistant program that meets the criteria set by organizations such as the American Association of Medical Assistants (AAMA) or the National Healthcareer Association (NHA). These programs typically include both classroom instruction and hands-on clinical training to equip you with the necessary knowledge and skills.
Certification Exam: After completing your education, you may choose to take a certification exam offered by organizations such as the AAMA or the NHA. These exams assess your understanding of various medical assistant competencies, including clinical and administrative tasks.
Application Submission: Once you pass the certification exam, you can submit your application for certification to the respective organization. Follow their specific guidelines and provide any required documentation, including proof of education, training, and exam results. Pay the necessary fees as specified by the organization.
Certification Issuance: Upon successful completion of the application process and meeting the certification requirements, the organization will issue your medical assistant certification. This certification demonstrates your competency and validates your qualifications as a medical assistant.
While there are no specific state organizations for medical assistant certification in Nebraska, obtaining certification from nationally recognized organizations such as the AAMA or the NHA can greatly enhance your professional qualifications and increase your job prospects. These certifications are widely recognized and respected in the healthcare industry, including in Nebraska.
To stay updated with any changes or requirements specific to Nebraska, you can visit the Nebraska Department of Health and Human Services website or contact the Nebraska Medical Association. These state organizations can provide information and resources related to the practice of medical assistants in Nebraska and any regulatory updates that may affect your career.
Where Can I Find a Job as a Medical Assistant in Nebraska?
The next question you probably have is "Where can I find jobs as a medical assistant in Nebraska?" Luckily for you, there are many places you can apply such as hospitals like Bryan Hospital, medical centers like Nebraska Medical Center, and nursing homes. You can often find job listings directly on the facility's website or through independent job listings online.
What Is the Salary for a Medical Assistant in Nebraska?
According to Salary.com, the salary range for medical assistants in Nebraska is $30,000 to $41,000, depending on what part of the state you will be serving in, your medical specialties, or if you hold any special licensure.
Get More information on medical assistant salaries in Nebraska.
The following cities in Nebraska offer medical assistant schools and courses.