Medical Assistant Programs & Certification in Kansas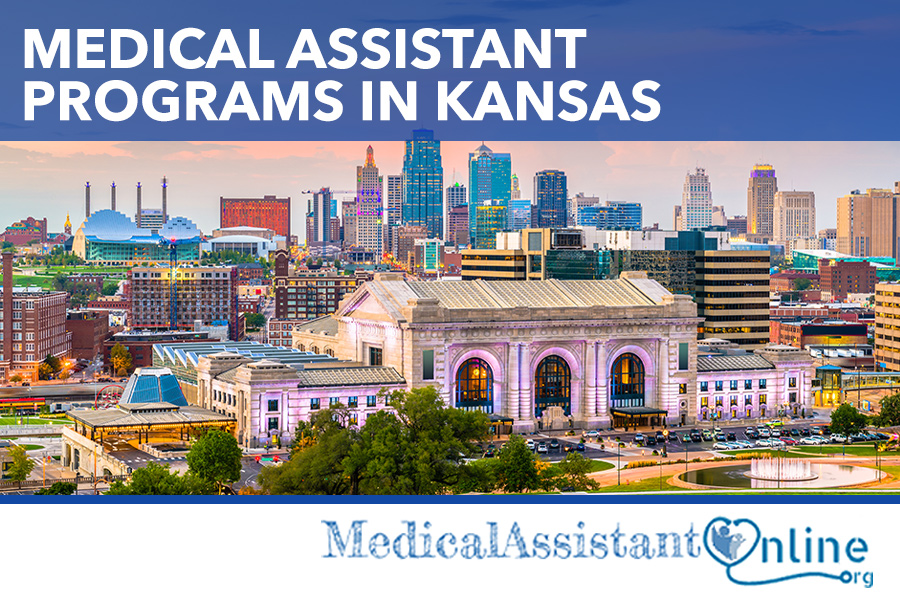 There are several reasons why someone might want to enroll in an online medical assistant program. Online programs offer flexibility, convenience, and affordability, making it easier for individuals to balance their education with other responsibilities such as work and family. The demand for medical assistants is up and the Bureau of Labor Statistics is projecting a 19% increase in employment between 2019 and 2029. This is due to an aging population, increased access to healthcare, and advances in medical technology. Learn more about how to get started in this lucrative and rewarding profession and the many options for online education in Kansas below.
Finding an Online Medical Assistant Program in Kansas
Finding an online medical assistant program based in Kansas can be as simple as doing an online search, but it could be just as effective to talk to people who are already working in the medical field about specific online medical assisting programs. In your research, you may come across Certificate in Medical Assisting program offered by Rockhurst University, a popular program that can help you get on the right career track.
Sponsored Listings
Getting a Medical Assistant Certification in Kansas
In Kansas, medical assistants are not required to obtain licensure or certification from state organizations in order to work in the medical field. However, there are national organizations that offer certification programs for medical assistants, which can help enhance your qualifications and increase your opportunities in the field.
To become a certified medical assistant in Kansas, you can follow these general steps:
Education and Training: Complete an accredited medical assistant program that provides the necessary knowledge and skills required for the role. Accredited programs are offered by various educational institutions, including community colleges, vocational schools, and online learning platforms.
Certification Exam: After completing your education and training, you can choose to take a certification exam offered by nationally recognized organizations such as the American Association of Medical Assistants (AAMA), the National Healthcareer Association (NHA), or the American Medical Technologists (AMT). These exams assess your knowledge and competency in areas such as clinical procedures, administrative tasks, and medical terminology.
Application Submission: Once you have passed the certification exam, you can submit your application for certification to the respective organization. Follow their specific guidelines and provide any required documentation, including proof of education, training, and exam results. Pay the necessary fees as specified by the organization.
Certification Issuance: Upon successful completion of the application process and meeting the certification requirements, the organization will issue your medical assistant certification. This certification demonstrates your competence and validates your qualifications as a medical assistant.
While there are no specific state organizations for medical assistant certification in Kansas, obtaining certification from nationally recognized organizations such as the AAMA, NHA, or AMT can greatly enhance your professional qualifications and increase your job prospects. These certifications are widely recognized and respected in the healthcare industry, including in Kansas.
It's important to stay updated with any changes or requirements specific to Kansas by regularly checking the Kansas State Board of Healing Arts' website or contacting the Kansas Department of Health and Environment. These state organizations can provide information and resources related to the practice of medical assistants in Kansas and any regulatory updates that may affect your career.
Where Can I Find a Job as a Medical Assistant in Kansas?
Now that you've undergone training, you may be wondering where to find employment as a medical assistant. Many medical assistant programs will provide you with resources to find jobs through local medical centers, hospitals, and nursing homes. In Kansas, this could include The University of Kansas Hospital, Saint Luke's Hospital of Kansas City, and Shawnee Mission Medical Center.
What Is the Salary for a Medical Assistant in Kansas?
According to Salary.com, the salary range for medical assistants in Kansas is $32,000 to $44,000. However, your actual salary will depend on many factors such as specific location, experience, and any licensing you may hold.
Get More information on medical assistant salaries in Kansas.
The following cities in Kansas offer medical assistant schools and courses.