Medical Assistant Programs & Certification in Indiana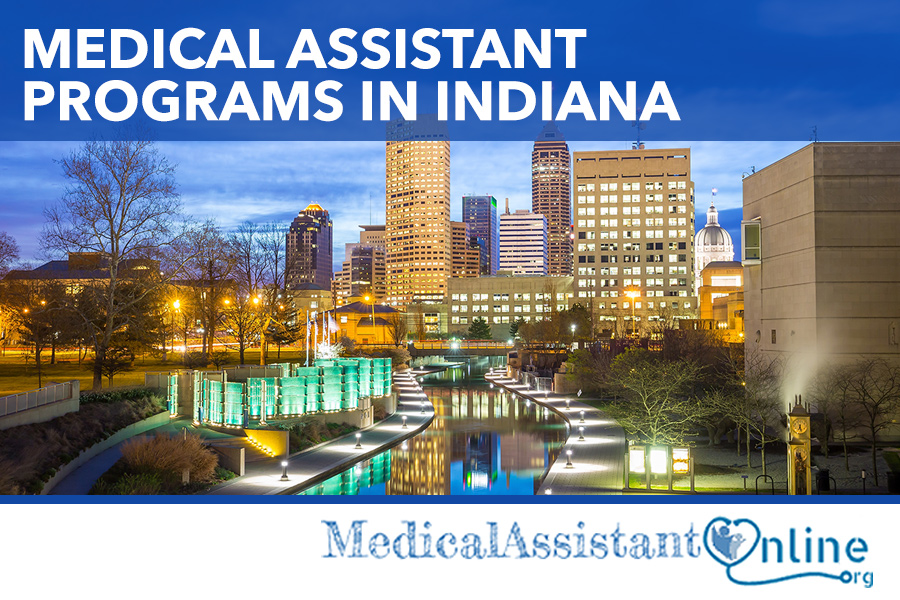 There are many reasons why someone would prefer to choose online learning over traditional, on-campus learning, but the likely reason is simply convenience. When getting your medical assisting training online, it can be much easier to start a new career while also taking care of the many other responsibilities one may have. There's also plenty of good news for those who are interested in becoming medical assistants–The Bureau of Labor Statistics estimates that there will be a 19% increase in medical assisting positions within the next decade, opening up the job pool wide open for this rewarding career.
Finding an Online Medical Assistant Program in Indiana
Finding an online medical assistant program based in Indiana can be as simple as doing an online search, but it could be just as effective to talk to people who are already working in the medical field about specific online medical assisting programs. In your research, you may come across The Clinical Medical Assistant Program offered at Indiana University Northwest a popular certificate program that's available 100% online.
Sponsored Listings
Getting a Medical Assistant Certification in Indiana
In Indiana, medical assistants are not required to be licensed or certified by state organizations in order to work in the medical field. However, obtaining certification through a recognized organization can be beneficial when applying for medical assistant positions.
One such organization is the Indiana Society of Medical Assistants (ISMA). Although certification through ISMA is not mandatory, becoming a member of this professional association can offer valuable networking opportunities, continuing education resources, and access to industry updates specific to Indiana.
To join the ISMA, you can visit their website and follow the membership application process. They may require proof of completion of an accredited medical assistant program and payment of membership dues.
Additionally, medical assistants in Indiana can also benefit from resources provided by the Indiana Professional Licensing Agency (IPLA). Although IPLA does not offer specific certification for medical assistants, they oversee various healthcare professions in the state and provide regulatory guidance.
To obtain medical assistant certification in Indiana, you can follow these general steps, working with federally managed organizations:
Education and Training: Complete an accredited medical assistant program that meets the standards set by recognized accrediting bodies such as the Commission on Accreditation of Allied Health Education Programs (CAAHEP) or the Accrediting Bureau of Health Education Schools (ABHES). These programs typically include both classroom instruction and hands-on clinical training to provide you with the necessary knowledge and skills.
Certification Exam: After completing your education, you will need to pass a certification exam administered by organizations like the AAMA or NHA. These exams evaluate your understanding of various medical assistant competencies, including clinical and administrative tasks.
Application Submission: Once you pass the certification exam, you can submit your application to the respective organization, following their specific guidelines and requirements. Include the required documentation, such as proof of education, training, and exam results, and pay any applicable fees.
Background Check: Depending on the certification organization and state regulations, you may be required to undergo a background check as part of the certification process. This ensures the safety and integrity of healthcare professionals.
Certification Issuance: Upon successfully completing the application process and meeting the certification requirements, the organization will issue your medical assistant certification. This certification validates your competency and demonstrates your qualifications as a medical assistant.
Where Can I Find a Job as a Medical Assistant in Indiana?
There are many methods you may find helpful when looking for employment as a medical assistant, but a great place to start is to take a look at online job boards or to apply to local medical establishments such as hospitals, nursing homes, or medical centers directly. In Indiana, a few of the largest employers of medical assistants include Indiana University Health Hospital, Franciscan Health Center, and Indianapolis Community Hospital.
What Is the Salary for a Medical Assistant in Indiana?
According to Salary.com, the salary range for medical assistants in Indiana is $32,000 to $44,000. However, your actual salary will depend on many factors such as specific location, experience, and any licensing you may hold.
Get More information on medical assistant salaries in Indiana.
The following cities in Indiana offer medical assistant schools and courses.