Medical Assistant Programs & Certification in Alaska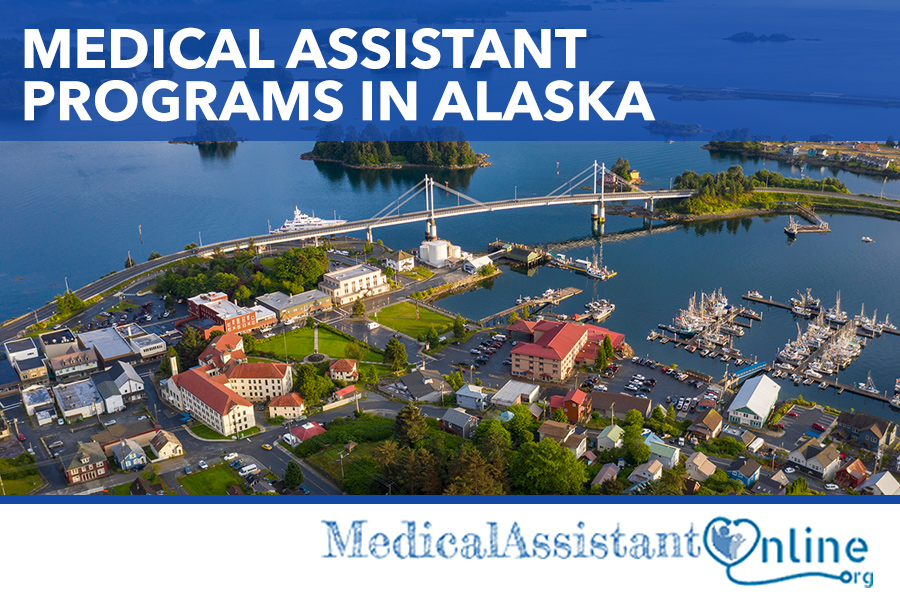 Medical assistants play a vital role in supporting both doctors and patients throughout the medical process. They provide assistance with various tasks, such as scheduling appointments, transporting lab materials, and preparing patients for medical procedures. In the aftermath of the pandemic, there has been a significant decline in the number of medical assistants in the workforce. Presently, as per the Bureau of Labor Statistics, numerous states, including Alaska, are experiencing a pressing demand for medical assistants. If you're considering embarking on a new career path, becoming a medical assistant can be highly rewarding and financially lucrative. Moreover, with the recent surge in online medical assistant programs, there has never been a more convenient time to acquire a valuable skill set.
Finding an Online Medical Assistant Program in Alaska
Alaska offers a plethora of excellent online medical assistant programs, ensuring you can discover one that aligns with your unique requirements. Seeking guidance from local medical professionals or career advisors can assist you in narrowing down your options. To begin your search for online medical assistant programs in Alaska, the internet is an excellent resource. One notable program to consider is the Certified Clinical Medical Assistant program provided by the University of Alaska Southeast.
Sponsored Listings
Getting a Medical Assistant Certification in Alaska
In Alaska, medical assistants are not required to obtain licensure or certification from state organizations in order to work in the medical field. However, there are national organizations that offer certification programs for medical assistants, which can help enhance your qualifications and increase your opportunities in the field.
To become a certified medical assistant in Alaska, you can follow these general steps:
Education and Training: Complete an accredited medical assistant program that provides the necessary knowledge and skills required for the role. Accredited programs are offered by various educational institutions, including community colleges, vocational schools, and online learning platforms.
Certification Exam: After completing your education and training, you can choose to take a certification exam offered by nationally recognized organizations such as the American Association of Medical Assistants (AAMA), the National Healthcareer Association (NHA), or the American Medical Technologists (AMT). These exams assess your knowledge and competency in areas such as clinical procedures, administrative tasks, and medical terminology.
Application Submission: Once you have passed the certification exam, you can submit your application for certification to the respective organization. Follow their specific guidelines and provide any required documentation, including proof of education, training, and exam results. Pay the necessary fees as specified by the organization.
Certification Issuance: Upon successful completion of the application process and meeting the certification requirements, the organization will issue your medical assistant certification. This certification demonstrates your competence and validates your qualifications as a medical assistant.
While there are no specific state organizations for medical assistant certification in Alaska, obtaining certification from nationally recognized organizations such as the AAMA, NHA, or AMT can greatly enhance your professional qualifications and increase your job prospects. These certifications are widely recognized and respected in the healthcare industry, including in Alaska.
It's important to stay updated with any changes or requirements specific to Alaska by regularly checking the Alaska State Medical Board's website or contacting the Alaska Department of Health and Social Services. These state organizations can provide information and resources related to the practice of medical assistants in Alaska and any regulatory updates that may affect your career.
Where Can I Find a Job as a Medical Assistant in Alaska?
There are numerous opportunities to find employment as a medical assistant in Alaska, particularly for individuals with comprehensive training and education. One effective method of locating job openings is by searching online through local listings. You can often find these listings directly on the websites of medical facilities and hospitals in Alaska. Some notable medical establishments in Alaska, such as Providence Alaska Medical Center, Alaska Native Medical Center, and Fairbanks Memorial Hospital, may have their job listings available on their respective websites. Additionally, online job boards and healthcare-specific websites can also be valuable resources for finding medical assistant positions in Alaska.
What Is the Salary for a Medical Assistant in Alaska?
The salary for medical assistants in Alaska can vary based on several factors, including experience, location, and additional certifications or qualifications. According to Salary.com, the average salary range for medical assistants in Alaska is approximately $37,000 to $48,000 per year. It's important to note that these figures are estimates and actual salaries may vary based on individual circumstances and employer policies.
Get More information on medical assistant salaries in Alaska.
The following cities in Alaska offer medical assistant schools and courses.