Medical Assistant Programs & Certification in Alabama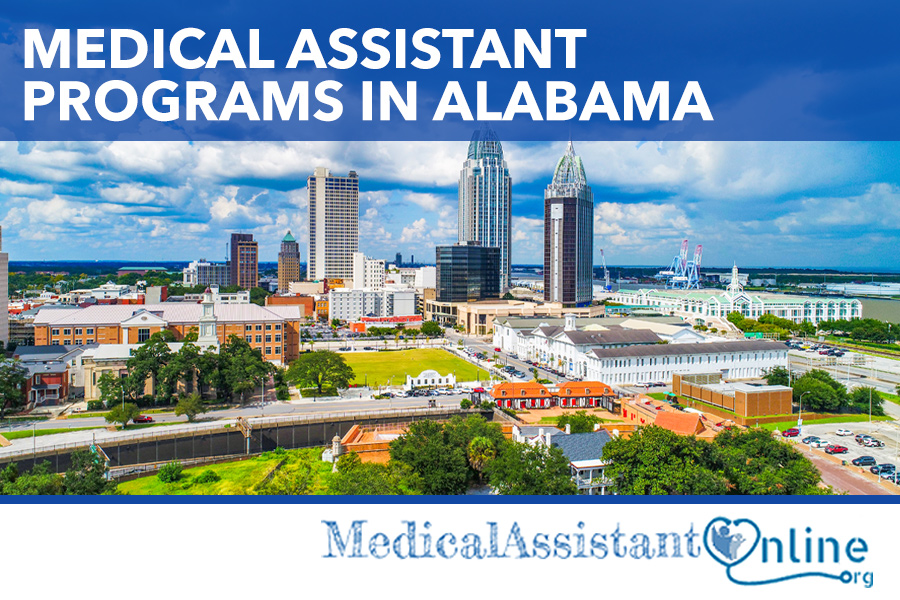 Medical assistants are responsible for aiding both doctors and patients during the medical process. They assist with tasks such as scheduling appointments, delivering lab materials, and prepping a patient for medical procedures. Following the pandemic, the US saw a drastic decrease in medical assistants in the workforce, and today, according to the Bureau of Labor Statistics, many states, including Alabama, are facing a drastic need for medical assistants. If you're looking to enter a new career this is an incredibly lucrative and rewarding one to take on, and with the new increase in medical assistant programs available online, it's never been a more convenient time to learn a new skill set.
Finding an Online Medical Assistant Program in Alabama
Alabama is home to many great online medical assistant programs and you can certainly count on finding one that fits your specific needs. Talking to medical professionals or career advisors in your area can help you narrow them down. A great place to start looking for online medical assistant programs is on the internet, where you can find programs such as the Clinical Medical Assistant Online Certification Course offered by Auburn University.
Sponsored Listings
Getting a Medical Assistant Certification in Alabama
In Alabama, medical assistants are not required to be licensed or certified to work in the medical field. However, obtaining certification from a recognized organization can greatly enhance your prospects during the application process.
To obtain a medical assistant certification in Alabama, you should follow these steps:
Education and Training: Enroll in an accredited medical assistant program that adheres to the standards established by the Alabama Society of Medical Assistants (ASMA) or the Alabama Board of Nursing (ABN). These programs usually provide a combination of classroom instruction and practical training to equip you with the necessary knowledge and skills.
Certification Exam: Upon completing your education and training, you will need to pass a certification exam approved by the Alabama Society of Medical Assistants (ASMA). This exam evaluates your comprehension of various medical assistant competencies, including both administrative and clinical responsibilities.
Application Submission: After successfully passing the certification exam, submit your application for certification to the Alabama Society of Medical Assistants (ASMA). Include all required documentation such as evidence of education, training, and exam results. Make sure to submit the necessary fees as outlined by the ASMA.
Background Check: As part of the certification process in Alabama, you may be required to undergo a background check. This step ensures the safety and credibility of healthcare professionals.
Certification Issuance: Once you have completed the application process and passed the background check, the Alabama Society of Medical Assistants (ASMA) will issue your medical assistant certification. This certification serves as proof of your competence and validates your qualifications as a medical assistant in Alabama.
Where Can I Find a Job as a Medical Assistant in Alabama?
You can find many medical assistant positions readily available, especially to those medical assistants who have undergone extensive training and education. A great place to locate these positions is online through local listings. Sometimes, these listings can be found on the hiring facility's website itself, for example, the websites of Alabama's largest medical establishments, East Alabama Medical Center, Southeast Health Medical Center, and Grandview Medical Center.
What Is the Salary for a Medical Assistant in Alabama?
According to Salary.com, the salary range for medical assistants in Alabama is $31,000 to $42,000. The amount you'll actually make will be determined by how experienced you are, what part of the state you're working in, and if you hold any certifications or undergone training.
Get More information on medical assistant salaries in Alabama.
The following cities in Alabama offer medical assistant schools and courses.